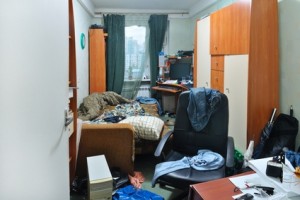 There are times where some folks just don't have the money to make repairs for some major items. This is where the appeal and showing condition of the rest of the home become critical.
First and foremost the home should be cleared off all clutter and unnecessary items. The term "de-cluttering a home" is one that is often used in Real Estate circles. If you have no where to put the items in the home to maximize the appearance I would suggest either putting them in storage or getting a temporary solution such as PODS. PODS are the containers that allow you to store items right on your property in a compact container.
Making sure your home shows well is an absolute necessity in a competitive market. For some excellent tips see Massachusetts home staging. If you don't have the time or the inclination, you may want to hire a professional home stager to take care of really putting you home in showplace condition. A professional stager can take a run of the mill home and really turn it into something special. If you have your mind set on getting your property spruced up yourself here are 21 additional great home staging tips to get you started.
One of the things that will bring the biggest bang for your buck if needed is painting. First impressions in home sales are critical. Since painting is relatively inexpensive I would consider this one of the top home selling tips for changing a homes appearance. A fresh coat of paint on walls and wood work can dramatically change a homes feel.
You will want to stay as neutral as possible with your color selections. Light earth tones work really well when selling a home. Keep in mind you want your home to appeal to the masses! Don't get caught up in selecting colors that appeal to you. Remember you are making selections based on selling. Often times sellers forget this and make selections based on their taste, not would appeal to the most people. This is the reason you will see many of the national home builders hiring professional decorators to assist with the design and staging details.
One last tip is to eliminate any odd decor items that may appeal to your unique sense of style, but which may appear strange to buyers.